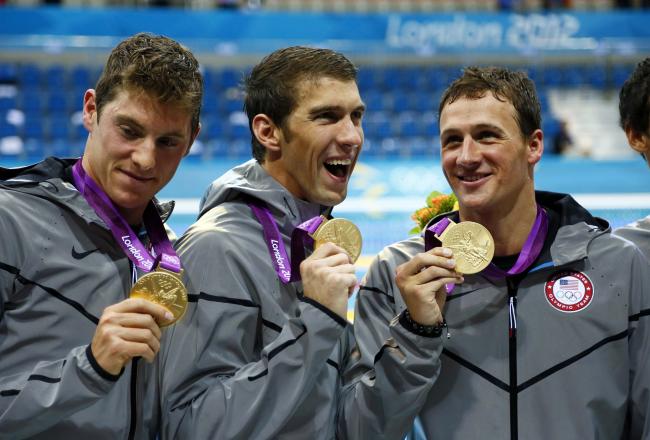 Rob Schumacher-USA TODAY
The London Olympics are going strong, and Day 5 looks to continue the fun and excitement.
After the crowing of Michael Phelps' Olympic record on Tuesday, we turn our heads to some different action.
Medals will be handed out in 11 different sports on Wednesday. From kayaking to weightlifting, athletes will rise to the occasion for their countries or falter and return home without realizing their Olympic dreams.
Most of the medals being earned today are not in the high-profile events, but they add to to the overall medal count all the same.
London Olympics Medal Count as of Aug. 1, 8 a.m. ET.
Olympic Medal Tracker
China Total: 23
13
6
4
United States Total: 23
9
8
6
Japan Total: 13
1
4
8
France Total: 11
4
3
4
South Korea Total: 8
3
2
3
Quiet Day for Americans
Wednesday won't be a day filled with medal upon medal for the USA. There are opportunities here and there to snag a few, most notably in the men's individual all-around gymnastics finals and women's 4×200-meter freestyle relay, but overall it should be fairly quiet on the American front.
The American contingent will be focused on preliminary action. Misty May-Treanor and Kerri Walsh-Jennings look to continue their Olympic set and match records in beach volleyball, and Team USA attempts to continue their domination in women's basketball.
Don't look for a big influx in gold on Wednesday.
Gymnastics Redemption
After a disappointment in the team competition, the men will go their separate ways and look for individual gold. This will be their chance to some sort of redemption after not claiming a medal as a group.
The men are talented and can come away with some individual hardware. Supposedly they have the best talent since the 1984 squad, but they have yet to live up to that potential in London.
It will be interesting to see what their mindset is entering the competition after their previous performances. As much as they were celebrated entering the Games, it is time for the men to step up. Maybe they can be inspired by what the women did on Tuesday.
China Will Extend Gold Lead
With the Americans only having a select few opportunities to close the gap on gold, look for the Chinese to extend their lead.
They already have one gold guaranteed as the gold-medal match in women's table tennis features Ding Ning and Li Xiaoxia.
Their early grasp on gold may be difficult to overcome, but it's still early in the Games, and the Americans have plenty of opportunities to close the gap as the days pass. But for today, it looks as if they will extend the lead and continue their firm grasp over the rest of the world.
I hope you enjoyed the article! -