The Huffington Post B.C.  |  Posted: 01/17/2014 11:03 pm EST  |  Updated: 01/21/2014 8:10 pm EST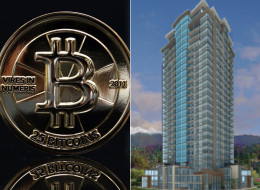 A Fraser Valley-based developer is tapping into digital currency to provide more options for buyers.
Quantum Properties in Abbotsford is B.C.'s first real estate developer to accept Bitcoin for deposits on its condos, Business in Vancouver reported.
And while no buyers have used the currency to purchase a home, the company wants to be innovative, CEO Diane Delves told the newspaper.
"I like to keep up with current trends," she said. "Why not get in on it?"
Bitcoin is a form of Internet money that allows peer-to-peer purchases online. It appeals to consumers because it removes a middleman such as a central bank or credit card company, and it permits anonymity in online payments.
Vancouver became the first city to host a Bitcoin ATM after a kiosk was installed at a downtown Waves Coffee in October 2013. Quantum Properties' Vancouver office islocated next door, Global News reported.
While popular, the currency's value has shown some vulnerability. The price of Bitcoin crashed in early December after China's central bank told financial institutions that the currency was not real.
Delves, however, doesn't seem concerned by any sudden drops in value.
"We're not going to expose ourselves to undue risk, so we will probably convert a lot of the Bitcoin into Canadian dollars," she told The Abbotsford News.
Quantum Properties' projects include Mahogany at Mill Lake, a luxury high-rise in Abbotsford, where 78 units are for sale; Orchid Riverside Condo Homes in Port Coquitlam, which is currently under construction; and Abacus Uptown in Abbotsford, where there are 68 homes are on the market.
The company, however, is not the first B.C. business to jump in on Bitcoin fever.
ClearlyContacts.ca, a Vancouver-based eyewear business, became the first major Canadian e-commerce retailer to accept the currency earlier this month, The Vancouver Sun reported.
That decision came after the Montreal Economic Institute warned that Bitcoin lacks the legal framework needed to become mainstream.