DATE:OCTOBER 13, 2013 | CATEGORY:TIPS & ADVICE | AUTHOR:HOTPADS.COM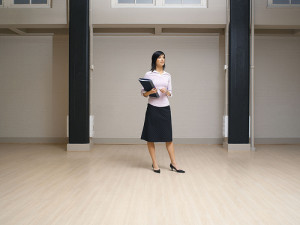 Image by Victor1558 via Flickr
In a competitive rental market, it's no longer effective to go to an apartment showing with only your checkbook, ready to hand in a deposit. In cities such as San Francisco, renters can arrive at a showing to see a line of 40 other applicants vying for the same unit. So what can you do to get your foot in the door? Create a renter application packet.
In order to have a good chance at landing the apartment, you need to show the landlord that you're qualified from the get-go. You can make a good first impression by being prepared and having all necessary documents neatly packaged in a file and ready to submit when you step through the door.
Here are a few tips to help you get started.
Essential documents
Gather the following paperwork to create your file:
Identification: Make a photocopy of your driver's license or passport.
Proof of employment: Ask your employer for a letter confirming your employment. This letter should specifically state your name, position, length of employment and salary.
Pay stubs: Many landlords have minimum salary requirements. Make copies of at least your three most recent pay stubs.
Bank statement. Including this shows the landlord you are financially stable and capable of paying the rent.
References: Create a sheet with the names and phone numbers of previous landlords, business references or other contacts who can confirm your financial trustworthiness. If you have a letter of recommendation, include it in your file.
Rental application and fee: Some property management websites have applications that you can print and fill out in advance, or you can search for a general rental application online. Don't forget to attach a check for the application and credit report processing fees.
Extra considerations
Additional materials that might be required include a copy of your most recent tax return, or if you have a co-signer, copies of the previously listed documents from your guarantor. Depending on which state you're in, some of the documents may need notarization.
Double-check the application requirements before you attend the showing. These can vary depending on the landlord, and some may require you to pay additional fees or deposits. Don't forget to bring your checkbook so you're prepared to act quickly if the showing and approval process go smoothly.  Remember, a lease is a legally binding document, and you need to read it carefully before signing your name on the dotted line. Best of luck!
See our online application at www.theperalgroup.com under the tenants tab